Wear Blue: Run to Remember pays tribute to Gold Star families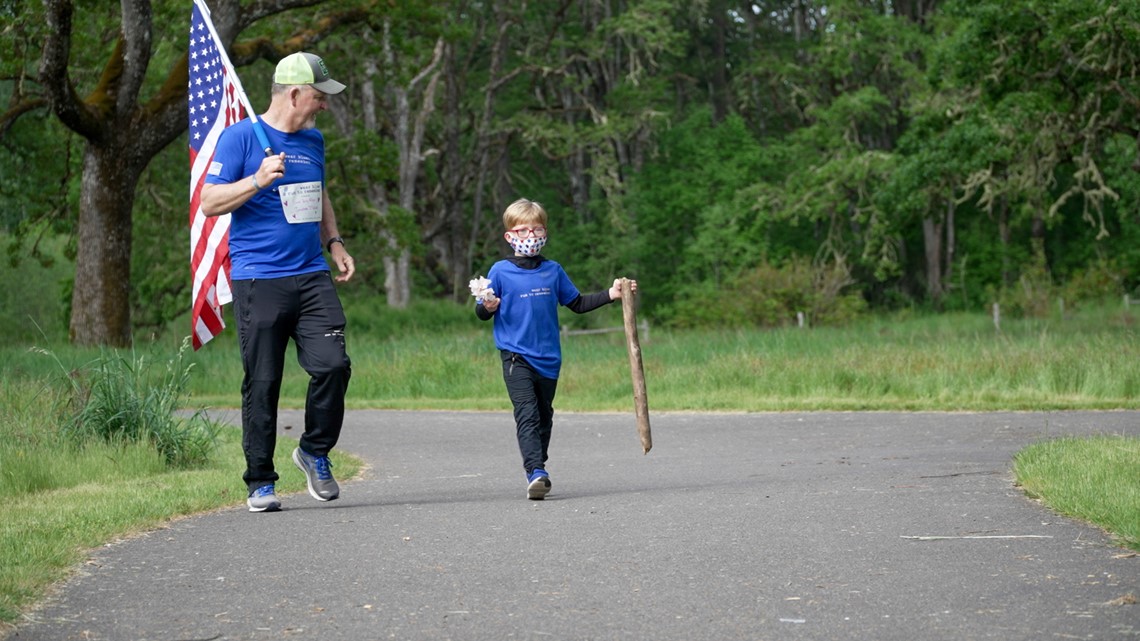 The Wear Blue: Run to Remember is a way for service members to support children with a loved one who has died in combat.
WASHINGTON – In dozens of cities across the United States on Memorial Day, members of the military will run a 5k alongside children whose family members have died while serving our country.
It's part of an event called Wear Blue: Run to Remember, which pairs active duty mentors currently in the military with a Gold Star child. Gold Star families are those in which an immediate family member has died in the line of duty.
Pairing is often transformative for both parties.
"Children are empowered to overcome the complex consequences of traumatic childhood grief and reclaim their lost identity as military children, while mentors are able to complete their own healing cycles," says the organization sure his website.
The pairs run together a 5 km, or 3.1 mile, together each Saturday for six weeks before Memorial Day, when the group reunites with other military, family and civilian supporters for an honorary "race to the dead".
The organization was formed in 2009 when a group of army wives and battalion support staff began meeting weekly to run together. Their husbands served in the 5-2 Stryker Brigade Combat Team, a unit that suffered many casualties while deployed.
Eventually, two of the women turned their mission into a national nonprofit, named after the blue shirts the original group wore to show support.
RELATED: Child Bullied For His Shoes, This Air National Guardsman Collects Shoes For Children In Need
Joey Milledge, 14, is one of the runners participating with a group in the Seattle area. Gig Harbor's ninth pupil has lost his father, Sgt. Joseph Milledge, Sr., when he was only one year old.
Joey's mentor, James Soldner, has been running with him for two years. Joey describes James as "awesome" and "so much fun".
James even supports Joey outside of their weekly errands by attending his sporting events.
For Joey's mother, Amanda, it's relationships like these that she hopes to keep her son connected to his late father and the sacrifice he made.
She said that the race is "part of [Joey] get to know his father. "
"When I run, I feel like my dad is running next to me," Joey explained.
Both mother and son say they hope the race encourages people to honor Memorial Day's true intention.
"The biggest thing I want people to remember on Remembrance Day is why we have Remembrance Day," Amanda said.
RELATED: Passionate Bowler's Son Plays Perfect Emotional Game With Ball Containing His Dead Father's Ashes
HeartThreads are the best stories about the best of us. Want more? Follow us: