Jonathan's Dream Park Celebrates Addition of CRIS Radio Mobile App to Improve Accessibility – We-Ha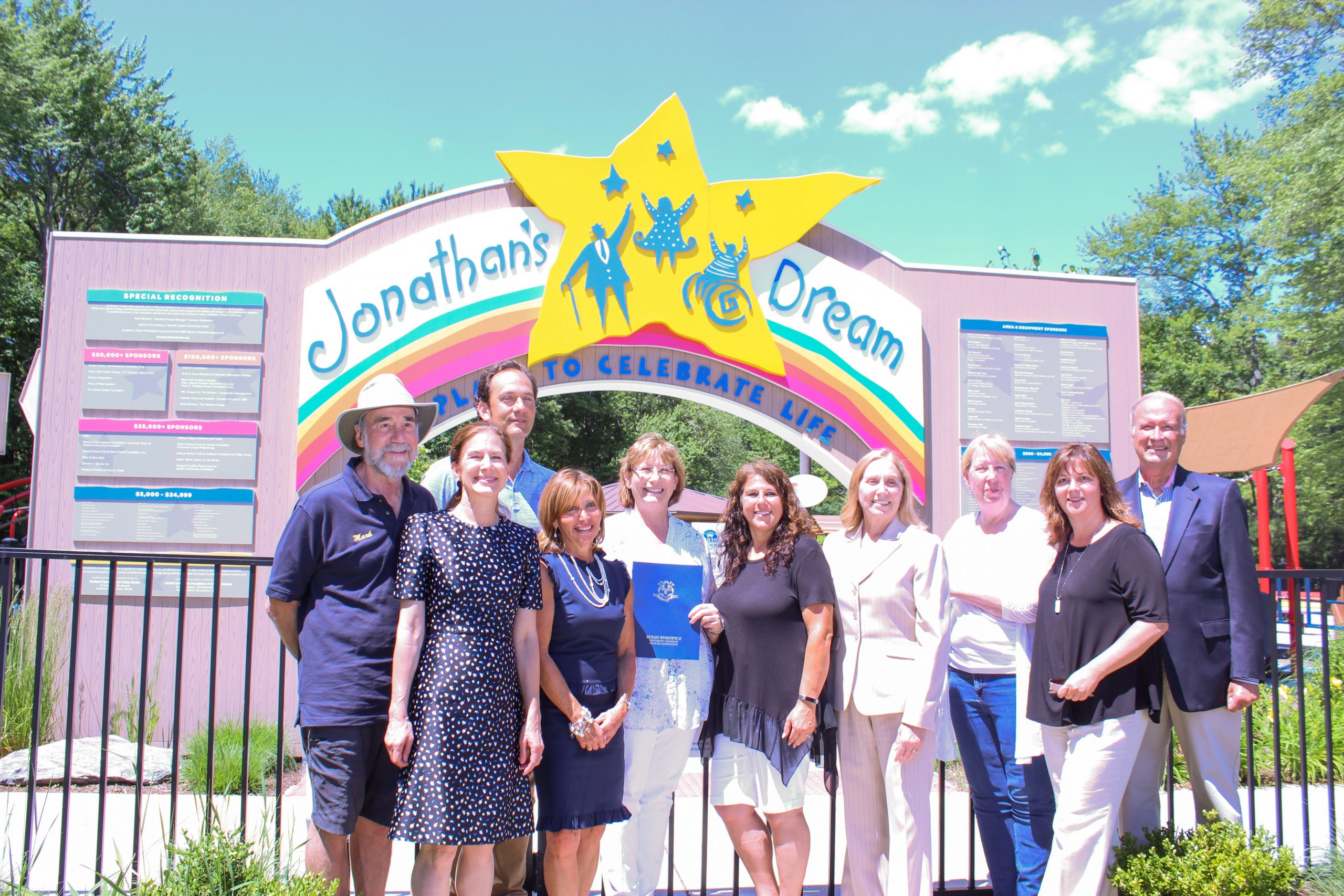 Jonathan's Dream Park in West Hartford uses CRIS radio and QR codes to increase accessibility to the park.
By Lily Guberman
Jonathan's Dream Park aims to be as inclusive as possible for children of all abilities, and on Wednesday there was the celebration of an innovation that will make the playground more accessible to the visually impaired.
QR codes have been added around the playground, powered by Connecticut Radio Information System (CRIS), a 42-year-old nonprofit based in Windsor, CT, and the state's only radio playback service that provides 24/7 audio access for those who are blind or unable to print.
QR codes can be scanned using the CRISAccess mobile app or via GPS tracking. When a user approaches a piece of equipment, their phone automatically starts playing the audio description, voiced by Brad Drazen.
Drazen, a West Hartford resident and former TV presenter and journalist, was also in attendance on Wednesday.
The original Jonathan's Dream Playground, which opened in 1996, was built as the dream of resident Amy Barzach and her family, in honor of their son, Jonathan, who was born in 1994 with degenerative neuromuscular disease. , spinal muscular atrophy. Sadly, Jonathan passed away before his first birthday.
After looking for a place to build, Barzach was given the green light for the playground on the Mandell Jewish Community Center campus in West Hartford.
Had he lived, Jonathan would have been confined to a wheelchair, and Barzach never forgot a moment, before her son's diagnosis, when she noticed a young girl in a wheelchair looking sadly at other children. in the playground. Barzach was inspired to build Jonathan's Dream, and following the success of this innovative concept, founded and served as the executive director of the nonprofit Boundless Playgrounds, building accessible playgrounds, where children with and without disabilities disabled people could play together in more than 200 communities. .
The original equipment of the playground was made of wood and when it deteriorated to the point of becoming dangerous, the playground was closed and dismantled. But Barzach, along with resident Ronit Shoham, has redesigned the site to make it even more accessible.
After a successful fundraising campaign, the grand opening took place in April 2017, and the new Jonathan's Dream opened on October 22, 2017, with playground equipment even more accessible to include more children.
Shoham, now manager of Jonathan's Dream Park, shared some welcoming remarks on Wednesday, speaking about the opening of the first version of the park. She highlighted the significance for the community and for parents of children who have a place to play with any of their peers.
Barzach explained how his son Jonathan inspired the creation of the park and all the hard work that went into making the first and second versions a reality. She mentioned that her other son, Daniel, told her the other day that she had taught him "how to deal with loss by celebrating life," a message she wanted those in attendance to take to heart.
Following these remarks, Paul Young, President of CRIS Radio, acknowledged the park's funders, including the Hartford Foundation for Public Giving, the Greater Hartford Host Lions Club and the Henry Nias Foundation. He also thanked officials for their continued support, including Lieutenant Governor Susan Bysiewicz, State Senator Cathy Osten, Department of Aging and Disability Services Commissioner Amy Porter, State Representative Kate Farrar and State Representative Jillian Gillchrest.
During her speech, Diane Weaver Dunne, Executive Director of CRIS Radio, stressed the importance of inclusiveness, accessibility and collaboration. These themes were taken up in Bysiewicz's remarks, as well as by Osten.
"Every child should have the opportunity to get up and go to a park, and they deserve to feel like every other child," said Osten.
West Hartford Mayor Shari Cantor was also present and reiterated the role of support services. "In life we ​​go through phases of what we need… support services for things we might not think we needed now could turn into something we will. "
Cantor recalled when Barzach was trying to build Jonathan's first dream and approached the city. She was told she was just a mom and couldn't do it.
"Look at what 'single moms' can do," Cantor told a chuckling audience.
Adults and children, with and without disabilities, can enjoy Jonathan's Dream Park, open every day from 10 a.m. to 8 p.m. and feel at home.
Do you like what you see here? Click here to subscribe to the We-Ha newsletter so you will always be up to date with what is happening in West Hartford! VSclick the blue button below to become a supporter of We-Ha.com and our efforts to continue to produce quality journalism.